Retaining Walls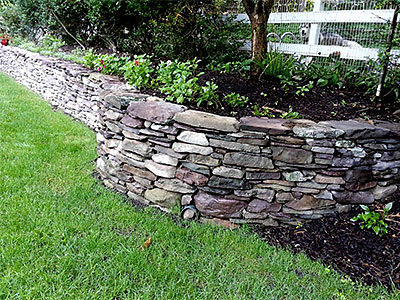 Retaining walls are needed to make properties safer and more functional. They are also recommended features for landscaped areas because of their aesthetic benefits. These types of walls can be used for flower gardens, sitting areas, and other outdoor areas requiring aesthetic boost. Design versatility is another reason why these structures become popular additions in residential and commercial properties. When designed and installed by professional contractors, unique and highly personalized wall designs can be achieved.

Now, if you are looking for professional retaining wall builders, call Ken Steenstra Landscaping, Inc. We are one of the state's expert contractors when it comes to designing and building retaining walls in residential and commercial properties. Clients can hire us to build different types of walls such as gravity, cantilevered, and reinforced walls. We follow industry-standards and local regulations to ensure the reliability and longevity of the walls we build. We also use top-quality materials from our trusted partner suppliers. Call us at (201) 857-8700 if you're from Allendale, Franklin Lakes, Glen Rock, Ramsey, Ridgewood, Saddle River, Wyckoff, Mahwah, Oakland, and Paramus, NJ.


Retaining Wall Blocks
Retaining walls that are made from top-quality retaining wall blocks can withstand extreme lateral soil pressure. These structures will not collapse or sag even if they are built higher than their normal height or installed in steep locations. Premium wall blocks are also available in various design options.


Concrete Blocks
Concrete blocks or CMU's are excellent materials for your retaining walls. When installed by professionals, the retaining wall will become a reliable and tough structure. Concrete blocks come in different sizes, so it's not difficult to find the right block size for your retaining wall project. The good thing about this material is that it requires minimal maintenance effort.


Building a Retaining Wall
Building a retaining wall in your landscaping can be an exciting DIY job. Building decorative retaining walls around your flower gardens or shrubs will definitely enhance the overall look of your landscape. With the use of some handy tools and the knowledge you get from online tutorials, you can already build this kind of wall in your landscape. On the other hand, walls that are primarily built to prevent soil erosion should be given to professionals. They have the capabilities and equipment to handle the job.


Retaining Wall Design
As mentioned, design versatility is one of the reasons why a lot of property owners opt for retaining walls. There are designs that are best used for decorative purposes while others are meant to provide protection and create more functional spots in a property. A common retaining wall design that most builders recommend is Old World. This design has timeless appeal and can easily blend with the existing architecture of your home.


Block Wall
The use of concrete or stone blocks for hardscape features is a popular option today. This type of material has a natural appeal, which can effectively highlight the beauty of any wall or hardscape feature in your property. A block wall can last for decades since it is capable of withstanding harsh environmental conditions. But before you choose this option, ask your contractor about the type of blocks that will best suit your retaining walls.

"MORE ARTICLES"

Landscaping
Landscape Company
Landscape Design
Lawn Care
Paver Installation

We Provide Services to the Following Cities, Towns and Surrounding Regions of NJ: