Lawn Care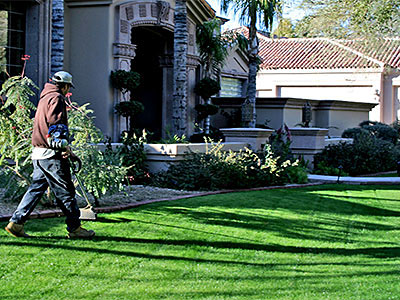 A healthy, lush lawn is not only attractive but also offers other wonderful benefits to the property owner. However, maintaining a lawn is not a simple task. You must exert effort, time, and money for its continuous upkeep. A comprehensive lawn care program is also recommended to achieve a verdant lawn all year round. You may perform all the maintenance tasks or hire professionals with extensive experience in this field.

Ken Steenstra Landscaping is a full-service landscape service provider capable of handling small - to large-scale lawn maintenance projects. Our company has been maintaining beautiful lawns for three decades already. We serve clients from Northwest Bergen County, particularly property owners from Allendale, Franklin Lakes, Glen Rock, Ramsey, Ridgewood, Saddle River, Wyckoff, Mahwah, Oakland, Paramus, and its surrounding areas. We have seasoned maintenance crews that can perform specific lawn care tasks that you need. Call us at (201) 857-8700 and let us provide the maintenance needs of your lawn.


Landscaping
Landscapes require comprehensive maintenance effort to ensure the health of the plantings and functionality of other landscape elements. You need to take care of the hardscapes, water features, fire features, and paver amenities. These features and other installations in the landscape should be well-maintained to achieve an attractive outdoor setup. For ponds and pools, use borders like box hedges or chain link fences to add interest and keep unwanted grass and other elements off the garden or pool deck areas. Use paver edging or any decorative design to boost the appeal for your patios and courtyards. Add landscape lighting to brighten and enhance your landscape features like gardens, waterfall, and ponds. The additions of these features will help transform your landscaping into a beautiful personal sanctuary.


Lawn Mower
Lawn mowing has a direct health result to your lawn when either done properly or improperly. To avoid this problem, you should let a lawn care professional handle the task. A professional is knowledgeable about the correct mowing methods and will adjust the lawn mower blades at the right level. Another advantage of getting a professional lawn mower is that he knows the perfect time to mow your lawn. A sodded lawn should be mown three to six weeks following its installation. For seeded lawns, they should be carefully mown to avoid disturbing the soil. You have to let the seeded lawn establish and thicken before you perform the first lawn mowing job.


Lawn Care Services
Opt for maintenance companies that have experience in maintaining residential and commercial landscapes. They use proper tools and equipment to maintain your lawn and landscape. And here at Ken Steenstra Landscaping, we can perform various lawn care services, such as core aeration, mulch application, thorough seasonal clean-ups, and even flower planting with annuals or perennials of your choice. Our company is also aware of environmental issues, and we understand the importance of a toxic-free and healthy residential or commercial environment.


Lawn Maintenance
Lawn maintenance covers a variety of specialized turf care tasks that can help increase your lawn's beauty, health, and function. These lawn care tasks include but are not limited to the following:


Mowing
Fertilizing
Weeding
Top soil and seeding
Core aeration
Flower planting
Mulching
Cleaning
Trimming
Pest control

Call a professional lawn care service provider to help you achieve the results you are dreaming of for your lawn!

"MORE ARTICLES"

Landscaping
Landscape Company
Landscape Design
Paver Installations
Retaining Walls

We Provide Services to the Following Cities, Towns and Surrounding Regions of NJ: