Landscape Design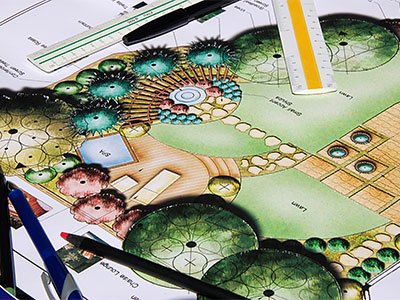 A beautifully designed landscape can help improve the appeal and value of a property. An excellently designed landscape typically includes features like hardscapes, softscapes, and other features, such as pathways, walls, water features, paved outdoor areas, and fire amenities. So if you are a property owner, make sure to get an experienced landscape design firm to help you create a space that is visually pleasing and functional.

At Ken Steenstra Landscaping, we offer landscape design and installation services that tackle your ideal landscape theme or style. We have a seasoned team consisting of professional landscape designers, architects, and interlocking concrete paver installers. They can help you with your landscaping and garden-designing project. We cater all types of clients throughout Northern New Jersey. We specifically serve the cities of Allendale, Franklin Lakes, Glen Rock, Ramsey, Ridgewood, Saddle River, Wyckoff, Mahwah, Oakland, and Paramus, NJ. We always create an outdoor setup that you will love and enjoy. Call us at (201) 857-8700 today!


Landscaping Ideas
Landscaping provides a world of boundless possibilities where property owners can install, renovate, add or build landscape elements to create a more attractive and functional outdoors. There are actually a lot of landscaping ideas that you may consider for your property.

Here are some of the features and amenities that you may include in the landscape design plan:


Lawns
Outdoor kitchens
Fire features (fireplaces or fire pits)
Themed gardens
Retaining walls
Driveways
Sidewalks/Walkways
Patios and decks
Pergolas and gazebos
Landscape lighting
Water features (pools, ponds, waterfalls, fountains)
Irrigation systems
Softscapes (trees, shrubs, bushes, flowers)
Garden Design
Planning and design are essential factors in making a landscape look beautiful. You can create themed gardens, such as Japanese or Zen gardens, water gardens replete with a stream, pond or waterfall, or a Xeriscaped garden where drought-tolerant plants and rocks are grouped together to conserve energy and water. The planning will cover these needs to create a tailored garden that you can enjoy for years to come. As you engage with our design consultants, we can help you get familiar with the basic garden design techniques and offer you inspirational ideas for your desired garden setup.


Patio Design
A patio, whether open, semi-roofed or covered, is one element of landscape design. Since the patio serves different functions, it needs to be given careful consideration. The available space that you have can be maximized by creating a carefully planned patio design. The location, intended use, capacity, type, and material of the patio should be also considered.


Landscape Designer
Getting the right landscape designer is important to help property owners get the most out of their landscapes. Our landscape designers are prepared to handle a wide range of design projects and dedicated to create and ensure quality garden design. We effectively apply the use of elements (space size, color, harmony) and practical considerations such as drainage and irrigation, lighting, excavation, and all other aspects of designing a sustainable landscape.


Landscape Architect
When planning a new landscape installation project, you need to get a professional landscape architect. Landscape architects work with their hands, possess a creative vision as well as appreciate the beauty of nature. Certified landscape architects understand proper building codes and can come up with a detailed landscape design plan covering material specifications and design ideas that will work within your budget.

"MORE ARTICLES"

Landscaping
Landscape Company
Lawn Care
Paver Installations
Retaining Walls

We Provide Services to the Following Cities, Towns and Surrounding Regions of NJ: