Paver Installation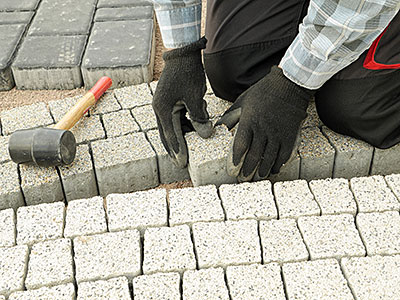 Paver features are excellent additions to any type of property, whether residential or commercial. They can be used to enhance the aesthetic appeal of a property or create new functional spaces. Many property owners choose pavers because of their durability, appeal, and low-maintenance requirement. There are also different types of pavers that they can choose from. They can have a concrete paver patio, a brick paver driveway, or a pool deck made from natural stone. But the longevity and beauty of these outdoor features depend on the expertise of your installers. A well-experienced paver installation company can guarantee the reliability of your paved features and amenities.

A local landscaping contractor that also specializes in paver installation jobs is Ken Steenstra Landscaping, Inc. For decades, we have been designing and installing paver amenities for residential and commercial clients across New Jersey. Some of our highly satisfied clients come from Allendale, Franklin Lakes, Glen Rock, Ramsey, Ridgewood, Saddle River, Wyckoff, Mahwah, Oakland, and Paramus, NJ. We have already built countless paver patios, pool decks, driveways, walkways, and other types of paved structures in these areas. Dial (201) 857-8700 and let us discuss to you how we design and build beautiful paver amenities for our clients.


Installing Pavers
Installing pavers can be an easy job if you know the right installation methods and techniques. Ample knowledge of installation procedures is required to guarantee the integrity of the paver structure. For example, the area must be prepared properly before adding the right base materials. You will also need special equipment to grade and compact the soil.


How to Install Pavers
Most DIY homeowners usually search online for information on how to install pavers in their property. But the problem with this approach is the lack of skills of the homeowners. Paver installation requires formal training and knowledge about the proper use of tools and equipment. If you still want to do the job in a DIY manner, equip yourself with the right tools and learn the proper installation methods.


Installing Patio Pavers
Pavers are still the best flooring materials for you patios. They are durable and perfect for outdoor living spaces. But before installing patio pavers, make sure that the area where the patio will be built is well-graded. The base materials should be compacted to avoid the possible movement or settling of paver units after the installation. It is also important to consider the pattern or layout of the pavers before commencing the paver installation phase.


Installing Brick Pavers
Installing brick pavers on outdoor living features is still a hit among NJ property owners. Bricks possess natural appeal that can easily enhance the look of any paved amenity. They are also versatile paving materials because of their earthy color tones. You can use brick pavers on patios, driveways, decks, walkways, courtyards, and other outdoor living spaces.


Paver Installers
One of the credentials that you should ask from your paver installers is their certification. Your installer should be certified by ICPI or Interlocking Concrete Pavement Institute. The certification is a proof that your chosen paver installation company is capable and qualified to do the job. Its people are properly trained and possess skills that will guarantee the accurate installation of each paver unit. By hiring a competent contractor, you will be assured of sturdy and reliable paver amenities.

"MORE ARTICLES"

Landscaping
Landscape Company
Landscape Design
Lawn Care
Retaining Walls

We Provide Services to the Following Cities, Towns and Surrounding Regions of NJ: